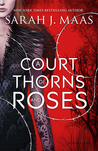 A Court of Thorns and Roses by Sarah J. Maas
My rating: 4 of 5 stars
Beauty & the Beast retellings are my favorite, and this one was pretty sweet. There was a Cinderella element woven into the story as well.
Feyre (Fay-ruh) encounters unusual prey in the stark winter woods. She hunts to feed her family, but her latest kill puts them all in danger. A monstrous beast barges into their home & takes her to his home to live out the rest of her days. It's the same B&TB premise set in fairy land. Of course, Tamlin is an alluring beastie & things are mysterious.
Feyre does some foolish things in the Fae world that land her in danger, but overall she's a likable MC. Tamlin made me swoon. I loved the banter between Lucien & Feyre, he was my absolute favorite character. Rhys was compelling, I can't quite decide if I should trust him. I love a mix of good & bad in my heroes & villains. Very well done.
I figured out the fairy riddle right away. I think Sarah Maas does it that way so we can feel clever. There's a bit at the very end that leaves the door open for another book, but no cliffhanger. I'd pick up a second installment in a heartbeat, I hope there's more to come.
Highly recommended.